Enjoy An Exceptional Journey of Taste
We see our customers as invited guests to a party, and we are the hosts. It's
our job every day to make every important aspect of the customer experience
a little bit better.
Stuffed Mushroom
Stuffed Button Mushrooms with Tuna
Chargrilled Spanish Chicken Skewer
Chargrilled Spanish chicken Skewer With couscous (GF.DF)
Crayfish Tails
one Crayfish Tails with Cheese and creamy sauce or Garlic butter sauce
Beef Medallions
Beef medallions in a rich creamy pepper sauce
Gambas
Gambas serve with pill pill sauce or garlic butter sauce and Chips
Nutella Cake
Chocolate, hazelnut, and Nutella cake
Gluten Free Raspberry
Gluten free raspberry and white chocolate bomb
"At El Fuego, we're bringing a new choice in dining to the heart of Swansea City Centre fusing our experiences of different cuisines into imaginative original dishes, as well as some continental classics.
Our heart is in quality produce and fresh ingredients daily, prepared with care by our dedicated and expert team.
Simple things, done well.. with a little flair!"
Book A Table
Enjoy The Meal
"Along with fresh Fish daily & finest Welsh 28-day matured prime steak cuts, we have meat-free and vegan dishes and a range of options designed with a wide range of allergen needs in mind. Serving small dishes and hearty plates alike, we're here for all tastes"
Simple and balanced. Alexander Petillo brings together flavors and specialties from Italy and beyond to create his own culinary world, full of surprising artistry.
El Fuego can now serve up to 40 guests in its private function room. Perfect for conferences, parties, receptions and family events. Call us on 01792 470004 to discuss your plans!
3 Victoria Rd, Swansea SA1 3NE, UK
M: contact@elfuego.uk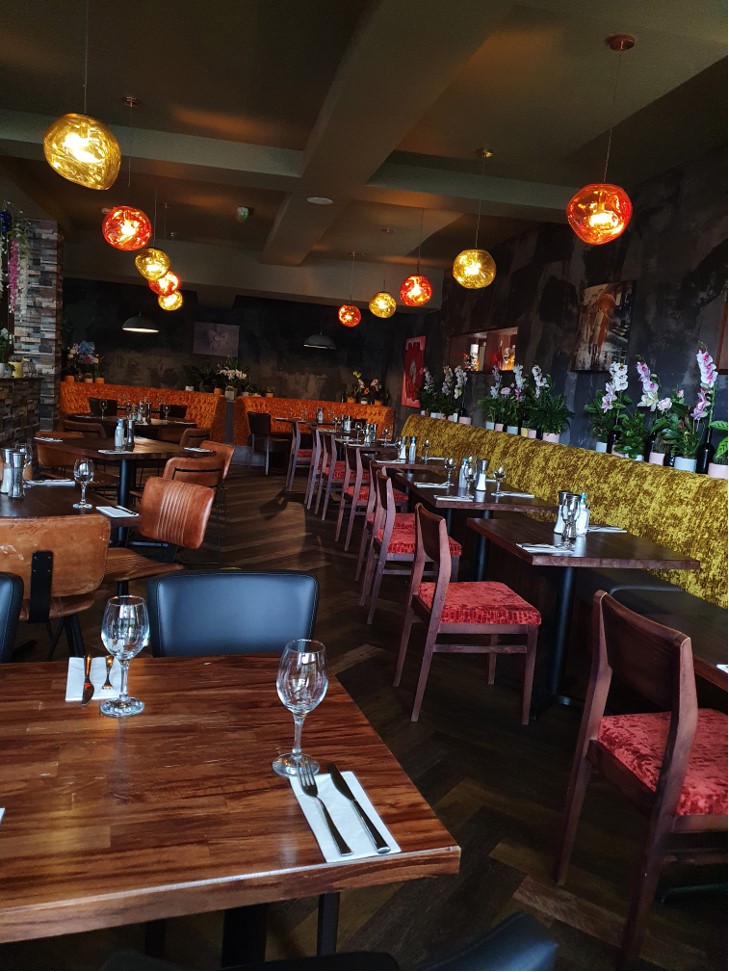 507marinelab
24. July, 2022.
Nice place to eat and spend Sunday afternoon Second time visiting Swansea...i find El Fuego restaurant...it is great place to spend Sunday afternoon...friendly staff, great food i choose grill sea bass with mediteranian salade..because i like fish and my partener choose chicken with mushroom sauce .Compliments to chef...the food was cooked perfect...colour and...M flavour in our plates! ??
Great Great food and service. All the seafood was fresh and delicious. Everything was cooked perfectly and there's a great cocktail menu. Love the outdoor seating downstairs.
Isabellemea
4. June, 2022.
Restaurant Best mediterranean restaurant in Swansea, very friendly staff and amazing service good value for money aswell as a very equipped bar we will definitely be back.
Bobshnwinkle
3. June, 2022.
Overall very good quality The managers of the restaurant are a really nice group of three Bangladeshi brothers. This sometimes does cause some bits of trouble regarding communication, however this regularly causes no more than a slight delay as opposed to an actual problem. The food is all excellent,...M however the desserts are sadly not made in the restaurant at all. The bar is very capable with an expansive cocktail menu is that's something you're into. The staff are all very friendly Overall extremely good small family run restaurant with a wonderful atmosphere
Fantabulous service and delicious food Today, came with my mates, the food was extraordinarily delicious and the staff were very kind and went through explaining about the food.. my favourite is peppercorn chicken.must try the steaks. Overall all 5 on 5 experience
100% Recommended! We came here on Saturday for a hen party, there were over 30 of us and I cannot fault the service we received. The staff were brilliantly accommodating and they really went above and beyond for us all. Food was brought out piping hot and...M all at the same time (which I know can be difficult for a large party) Food was delicious and the portions were plentiful. The outdoor area was lovely to sit out and exceptionally clean throughout. I will definitely be booking again. Thank you to the amazing team for looking after us!
Review Amazing restaurant. Very good and fresh food. Close to beach. We didn't wait too long for our food. Nice service.
misheeld2021
9. March, 2022.
Delicious meals, and amazing staffs Had tomato soup as starter and beef medallions as main with my friends. Food was fabulous, not to mention the friendly and attentive staffs. Will definitely come back with my friends
NataliaG112345
7. March, 2022.
Review Fantastic place to spend time with family and friends. Delicious food and really welcoming staff. I truly recommend this restaurant!
ashleyjdavies
24. February, 2022.
30th birthday Came as a big group for a 30th party. There was no wait between courses considering so many of us, very quick service. Mains were beautiful but starters weren't that great. We found them to be very oily including garlic mushrooms, seafood salad & soup...M of the day. I would return purely for the mains